'Okay, Joan, we're coming over to the city to see the flower!'
My mum was on the phone. Last night, I had excitedly called her to say that the world's biggest flower had started blooming in the Botanic Gardens. It was the first time in the seven years that the Gardens had been looking after it.
The flower is the Amorphophallus titanum. Wikipedia describes how the  shorter and more widely used name, Titan Arum, was coined.
The popular name "titan arum" was invented by the broadcaster and naturalist Sir David Attenborough for his BBC series The Private Life of Plants, in which the flowering and pollination of the plant were filmed for the first time. Attenborough felt that constantly referring to the plant as Amorphophallus on a popular TV documentary would be inappropriate.
It is also called the 'corpse flower' because it smells like rotting flesh. That makes it attractive to beetles and flies, which help it to pollinate.
Such is the difficulty of getting Titan Arum to bloom that Wikipedia has a list of publicised titan arum blooms in cultivation. When I looked at Wikipedia on Boxing Day, the Melbourne bloom wasn't listed yet. It's now there and I feel proud that I knew about it before Wikipedia and the news media.
See? You don't need to be constantly on Twitter to get the scoop. You just need to live next door to the news action and stumble across it by accident on a public holiday.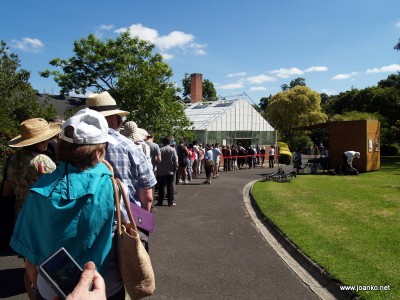 We arrived at 10:30 and waited around 25 minutes to get in. Our family and friends who came later in the day and the following day had a one hour wait.
Inside the Tropical Glasshouse.
Here is the bloom. You see the green stalk-and-leaf plant to the left of it? That's another Titan Arum plant. I understand that each plant can take one of two forms: the stalk or the flower (inflorescence). We're lucky that one of them decided to be a flower.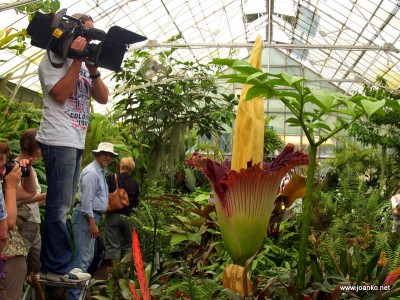 The Sunrise camera crew films the flower
Sunrise and Channel 10 were in the glasshouse the whole time we were there. The Age went one better and put together a time lapse video of the flower opening up overnight.