Damjan and I have lived the inner city car-free lifestyle for a while now. We wondered if would be possible to continue without a car once Mia arrived.
It's been five months now and I think the answer is yes. Public transport and walking still gets us almost everywhere we need to in a normal week. Beyond that, car share gets us to the beach, friends in regional towns, Ikea and Bunnings.
We had been thinking about joining a car share scheme for a while and Mia's impending birth finally brought it to the top of our 'to do' list. Being the analytical people that we are, it would not surprise you that we put together a spreadsheet of all the car share options in Melbourne (11 plans from three companies). The spreadsheet allowed us to work out the most cost effective plan for our lifestyle.
The three companies in Melbourne (Flexicar, GreenShareCar and GoGet) have different fee structures (e.g. hourly charges, distance charges, toll administration, insurance). It's quite tricky to line them up side-by-side unless you have a spreadsheet… which you now can do, my readers, because here is a link to our handiwork.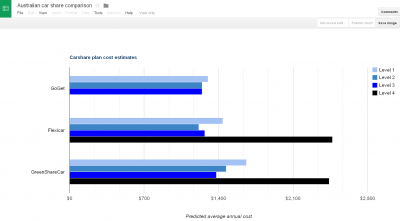 We worked out that we might spend around $1,000 per year. Which is bloody good, considering how much the insurance and registration would be just to own a car for occasional use. Even better, instead of an underused car sitting in our car space, we're renting the space out and the rent covers all our public transport.
Head over to Damjan's site for his write up of the spreadsheet.